Bound by Faith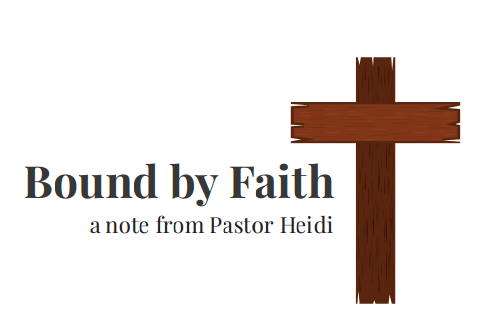 A Note From Pastor Heidi
As many of you know, I am currently enrolled at Phillips Theological Seminary in Tulsa working on my Masters in Divinity and I recently attended my first week intensive course; Introduction to Native American Religious Beliefs and Practices. I truly had no idea what to expect other than that I had to read five books prior to class along with a handful of articles, all of which were completely muddled in my brain prior to class. My class met Monday through Friday from 8:30 – 5pm on campus in Tulsa with each night filed with reading and researching for our thesis paper. We had a few in-class assignments and one in particular that I wanted to share with you all.
We were given an in-class group exercise in which we were challenged to define 'religion'. According to the Google definition, religion is the belief in and worship of a superhuman controlling power, especially a personal God or gods. There were five groups in my class and as you probably guessed, five different definitions. There were, however, some shared similarities – how religion was expressed through values, beliefs, relationships, dance, thoughts, music, rituals and prayer. It seems religion is an outward expression, a shared entity between people. The group I was a part of described religion as "a unified system of values, beliefs, and practices within different communities; which encompasses ancestral traditions, storytelling, relationships, and ceremony; and is transformative in daily life through communal sacred and holy experiences".
Can 'religion' be done alone? Probably but just as the upcoming Regional Assembly's theme is "Better Together", religion is to be experienced and together allows us to intertwine our experiences and our lives and to share our peaks and our valleys and to embrace our shared moments of community and time of worship together. So until the next time we gather to worship, pray, work side by side, study or share a meal, may we look forward to being better together.
Until next month, I'd invite each of you to join us each Tuesday night at 8pm as we log into Zoom for a prayer gathering – a time to pray with one another for those near and dear to us, for our community and for our world. Click on this link to join us! https://zoom.us/j/5124766941