Bound by Faith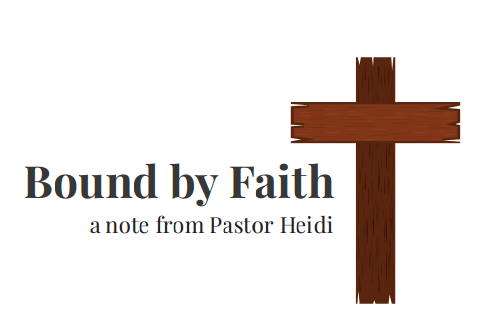 A Note From Pastor Heidi
On Sunday, July 7th we kicked off our Week of Service during worship in the community room as we took a closer look at how we could each live out when the prophet Micah inquired, "what does the Lord require of you?' We shared together by beginning our service to others by visiting the different 'mission stations' set up around the room where we made and created:
60 blessing bags packed with a meal, snacks, a pair of socks and a few other summertime essentials to share with those in need.
40+ handmade greeting cards to send to our US military men and women stationed in Bagram, Afghanistan.
45+ pressure point pillows were stuffed and sewed to be given to Hospice Austin's Christopher House
What a fantastic beginning to our week of service to our local community through various Austin area nonprofit organizations!
On Monday, 13 people gathered at Bethany Christian Church to clean and paint the food pantry just in time for their inspection by the Capital Area Food Bank to renew their certifications. Following lunch and devotional time with the folks from Bethany, we presented them with a $500 check to continue serving those in need each month. Then on Tuesday, 7 CCC'ers partnered with Quest Academy; a summer camp for kids on the autism spectrum, to clean windows at Bethany United Methodist Church and then played games with them at Main Event – those kiddos are serious about air hockey! So much fun and laughter with this bunch of kids! We also presented Quest Academy's Executive Director Tanya Gonzales with a check for $250 to continue their work with these kids and community! And on our final day of service, 12 people gathered at Austin Humane Society where we worked together to paint their auditorium which is used as their training room and for other large meetings. We took a short break for a guided tour of their facility which was incredible to see all that they do to ensure that population control is available to feral cats as well as all of the love and care that is given to the kittens, cats, puppies and dogs in need of a new home. I'm not sure how we all made it out of there without adopting a cat or dog as they were all so sweet and cute! On behalf of CCC, we presented a check for $250 to their volunteer coordinator so that they may continue to serve the Austin animal population.
And what would a week of service be without a day of fun? We celebrated with a trek to New Braunfels for a day of fun in the sun and floating the lazy river at Schlitterbahn.
Special thanks to everyone who participated in our week of service, together we volunteered over 154+ hours to our local area! It truly was a faith community effort and there are so many to thank for helping execute it all that I don't dare mention by name as I'm certain that I'll leave someone off the list. Thank you all, until next time!