Bound by Faith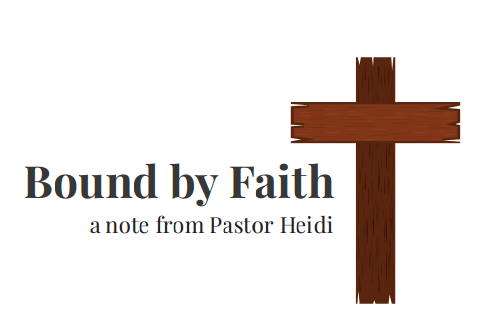 A Note From Pastor Heidi
I am thrilled that CCC will be hosting our first, multigenerational week of service right here in Austin! Join us on Sunday, July 7th to kick off our time of service together.
Sunday, we will worship together and begin our time of service through various hands-on projects at the 11am worship service.
Then, Monday we will gather at Bethany Christian Church Food Pantry to help clean and paint the food storage area just in time for their inspection by the Capital Area Food Bank.
On Tuesday we will partner with Quest Academy of Austin to serve alongside their summer campers in a host of different projects. Quest Academy is an academic, life skills, and vocational camp with a focus on growing students towards independence and enhancing social skills. Quests' Executive Director Tanya Gonzales and I worked together with one another at HEB and I'm thrilled to work alongside her again in this partnership of service.
And for our final day of service on Wednesday we will gather to serve a mystery organization! We had secured a volunteer opportunity with the Austin Humane Society but unfortunately due to repairs at the shelter then they are no longer able to accommodate our group. Rest assured, we will have a place to serve and as soon as all the details are worked out then I will let everyone know.
To celebrate on Thursday, we will end our week of service at Schlitterbahn Water Park in New Braunfels.
Find the event and full details here!