Bound by Faith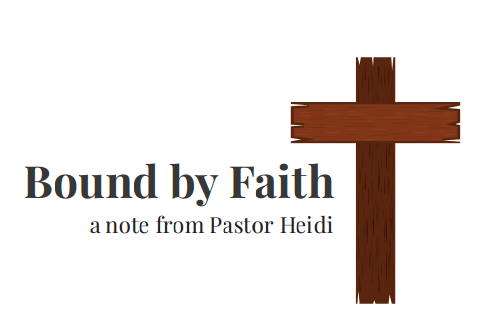 A Note From Pastor Heidi
In my February blog I shared how my Theological Leadership class this semester at Phillips Theological Seminary had challenged me to engage weekly in a spiritual reflection and then to keep a weekly blog, private journal or written account of my experiences. As I mentioned, I began by taking a survey of various practices and ranked them from one to six based on whether I had experienced it, enjoyed it, didn't like it, was uncomfortable trying it or if I hoped I never had to do said activity. After completing the survey, I realized that I had actually participated in most of the activities and appreciated their value. Therefore, I had to stretch myself over the six-week assignment to engage in activities that I wasn't exactly eager about doing. I knew that the "stretch" would help me grow and participate in activities that I would not intentionally seek out had it not for this course or this particular assignment.
So, here's the confession, there were a few activities that I was 100% completely against. One was to fast for three days – seriously, I love Mexican food and queso way too much for that! And the other was liturgical dance – yep, not going to happen! I love liturgical dance and have great admiration for people who have that gift but if I were doing that someone may think that I was having some sort of medical emergency! Truly, I am sparing everyone from having to witness such a thing.
I know that I challenged each of you to join in on this assignment and many of you have shared with me some of the activities you have tried so I'll share the ones that I did. Again, I had already engaged in the majority of the activities on the survey but some were a bit more uncomfortable than others. I began with an activity near and dear to me – helping out at Bethany Food Pantry. I was able to deliver the 700+ food and hygiene items that our church collected for Souper Bowl of Caring. It is always so fulfilling to work alongside the other volunteers to help restock their pantry after the holidays. Next up was to walk a labyrinth and although I had done so several times before, I headed to Butler Park, formally known as Town Lake Park. What a beautiful experience to have in the middle of the hustle and bustle of the city. Next was to visit an art museum with religious themes. I convinced my husband; Brad, to tagalong for this one. We went to the Blanton Museum to take in Ellsworth Kelly's exhibit called Austin. If you haven't had a chance to experience it, I'd highly recommend it. The building, stained glass and other art elements are spectacular. In week four I challenged myself to spend a day in silence or at least eight hours in silence. Honestly, it was a lot more challenging that I expected even though I decided to do it on one of my study days. I still often caught myself humming or singing to myself. Week five, I saved the most challenging for this week, I tackled the one day fast. I chose to do it on a Sunday as it's a day that is busy and has lots of distractions so I didn't think I would notice but fasting made my other senses really kick in. I mean, that fresh baked bread smelled amazing at HEB when I went grocery shopping – I know, who goes grocery shopping when they are (Continued on page 4) 4 fasting, right but I wanted to stick to my normal routine as much as possible. And the final activity was to attend a different church from my own. Although I always enjoy attending worship elsewhere even when we are on vacation, I did so this time with great awareness of the order of worship and the word choices given by those leading the service.
What did I learn from this assignment? I learned several things. I learned that I must be intentional about my spiritual life. I learned that I must set aside marked time on my calendar to do activities that stretch my mind, body and spirit. I learned that by doing activities that I was uncomfortable with made me stronger and more confident. I learned that out of the norm activities allowed me the time and space to have a different perspective of the world around me. I learned that even those activities that weren't necessarily in my wheelhouse led me to an appreciation that I didn't have before. And I learned that even while being involved in activities that I love to do that it is important to not just plow through the activity but to look for and acknowledge how it feeds my body, mind and/or spirit. But mostly I learned that we are never too old or too spiritual or too whatever to step out and try new activities or to partake in ones that we love but with a renewed spirit and to really soak it all in – body, mind and spirit.