Bound by Faith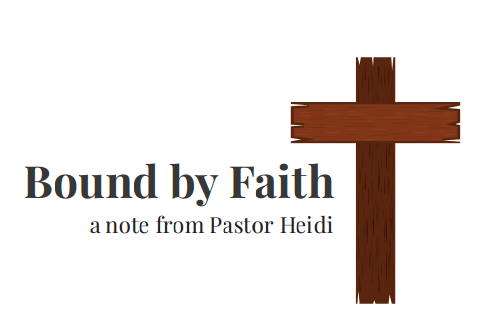 A Note From Pastor Heidi
Now that all of the Fall decorations are packed away and the Christmas trees, garlands and stockings are being hung by the fireplace, let us also prepare our hearts and minds for the season – the season of waiting and anticipation. The word "advent" is derived from the Latin word adventus, meaning "coming". Advent is a time for us, as Christ followers, to prepare for the coming of the baby Jesus.
As a faith community, one tradition that we will celebrate each Sunday is the lighting of the Advent wreath. Just a bit of history for you, the advent wreath first appeared in Germany in 1839 by a Lutheran minister who worked at a children's home created a wreath out of an old cart wheel. He placed twenty small red candles around it to be lit each weekday and on Saturday and then place four large white candles to be lit on each Sunday in Advent. Today, we celebrate with four large candles that are lit each Sunday with a large white candle lit for Christ on Christmas Eve.
Each Sunday we will gather to worship and anticipate the coming of Christ and our worship and music team have met and are excited to share in some old traditions but to also incorporate some new ones also. On the first Sunday of Advent (December 2nd), we will have our Hanging of the Greens service and then on the second Sunday of Advent (December 9th) we will all get to help decorate our Chrismon Tree during the morning service. Each week will be filled with glorious music and moments of prayerful anticipation. Then on Christmas Eve, we will welcome the baby Jesus with a beautiful, spirit filled Christmas Eve Candlelight Service.
What are some of your favorite Advent traditions? We look forward to sharing in this year's Advent season with each of you.