Bound by Faith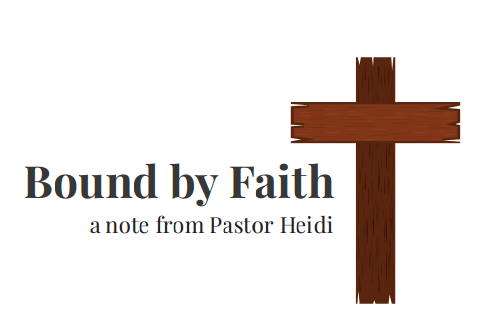 A Note From Pastor Heidi
November kicks off what was known in my former career in retail as the "holiday hustle"! Halloween was over and in rolled the turkeys and all the fixings followed by Christmas all that surrounded that season and then we slide into the new year filled with hope, aspirations and big goals. It's a time of year that seems to fly by and can be a time of great joy – jam packed with parties with friends, family gatherings and time spent with those we love and adore most. However, for others, it's a time of angst, anxiety, lonely and depression as the holidays are a reminder of years past or people who are no longer here in the physical world with us.
I was reading an article recently by two psychologist, Dr. Robert Emmons of University of California and Dr. Michael McCullough of University of Miami who have conducted much research about gratitude. In one of their studies, they asked participants to write a few sentences each week, focusing on particular topics. One group wrote about things they were grateful for that occurred during the week. The second group wrote about daily irritations or things that had displeased them. And the third group wrote about events that had affected them (with no emphasis on the writings being positive or negative). After 10 weeks, those who wrote about gratitude were more optimistic and felt better about life. Proof positive that what we choose to focus on, either the positive or the negative, really does impact our entire being – mental, physical and spiritual.
So, this year as we head into the season of the "holiday hustle", I'd like to invite each of you to join me in a gratitude post-it challenge for the month of November. It's super simple, nothing complicated to add to the already overflowing plates we are already juggling. Grab a stack of post-it notes or any piece of paper and write one thing you are thankful for each day and post it by your bathroom mirror! Yep, that simple! And it takes only a moment to reflect on your day and then as the month goes on and gets a bit more chaotic as the Thanksgiving holiday approaches, we can reflect back on all of the moments we have to be thankful for!
May we each find the moments of gratitude to focus on during this time of year!