Bound by Faith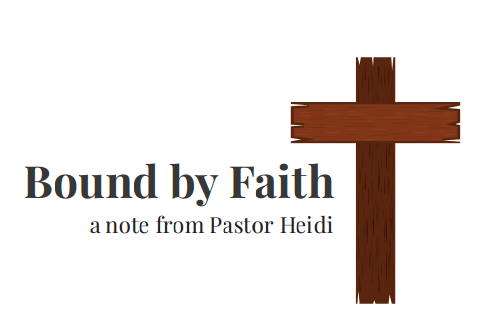 A Note From Pastor Heidi
In 2017, Central Christian Church members supported local, state and worldwide ministries in many different ways. Here are the many ways that you all helped impact the world around us in 2017:
Souper Bowl of Caring – CCC collected over 600 items of food and personal care items to donate to Bethany Food Pantry
Medical Missions Support Outreach – CCC members, family and friends collected, scrubbed off labels and sanitized over 1000 medicine bottles to be sent to medical clinics in third world countries to ensure safe dispensing of medicines
Lion's Club – collected and donated 40+ pairs of eyeglasses
Youth Mission Trip/Workcamp – 10 CCC members (youth & chaperones) traveled to Mescalero, New Mexico to serve the people on the Apache Indian Reservation through painting, building handicap ramps and decks. We joined over 200 people from 15 other churches from 8 different states to serve over 6,000 volunteer hours
Angel House Soup Kitchen – CCC members and friends served lunch to over 300 people
Hurricane Disaster Relief Efforts – CCC partnered with several different organizations to ensure that the items collected were delivered quickly and directly to those in need:

– 30 hygiene kits were assembled and delivered to Church World Services
Carload of items were collected to be delivered directly to those who were in local shelters (pillows, blankets, towels, toiletries, diapers, games for kids and adults)
Carload of items were passed onto a truck being delivered to the Beaumont area through Farmers Insurance – Alycen Lucy Agency
Carload of pet supplies were delivered to Pets Alive for all of the animals that had been relocated from coastal shelters up to the Austin area
Partnered with Puerto Rico Rises – Austin for a quick collection to be added to a plane full of supplies. CCC members collected 13 packages of dry milk, 9 containers of baby formula, 5 packages of baby wipes, soap, toothpaste, pain relievers (Tylenol/aspirin), first aid creams, over a 1,000 band aids, feminine hygiene products and 1,498 diaper

School Supply Drive – CCC collected supplies which were distributed to multiple organizations and schools in need. A carload was delivered to Salvation Army for children living in the two shelters, another carload was delivered to Foundation Communities for their low income after school program and a final carload was delivered to Smith Elementary in Del Valle (our very own Ginger Meeks use to teach there)
Bethany Food Pantry – CCC purchased over 100 pies to help fill the Thanksgiving dinner boxes for families in the East Austin area
Posada Esperanza Pizza and Presents Christmas Party – CCC members and friends sponsored 17 mothers and 24 newborns and children to receive gifts for Christmas. Each mom received a $25 gift card and goodie bag with personal care items. Each newborn or to be born baby received a diaper bag, onesies, diapers/wipes, blankets and other items. And each child received a bag full of goodies and numerous presents. Thanks to everyone who helped wrap, load, unload and deliver all of the cars full of presents
Blessing Bags – During our Christmas luncheon, we also had a Santa's workshop and one of the stations was to assemble a blessing bag complete with a pair of socks, wash cloth, cup of soup, pudding, fruit cup, bottle of water, band aids and Life Saver candies. Over 70 bags were made for members to share with those that they see throughout their week who may need an extra blessing.
Financial Contributions
Posada Esperanza – $500
Samaritan's Center of Southwest – $250
Casa Marinella – $500
Disciples Outreach to the Mentally Ill – $250
Bethany Food Pantry – $500
Inman Christian Center – $250
Misc. Expenditures – $500