Bound by Faith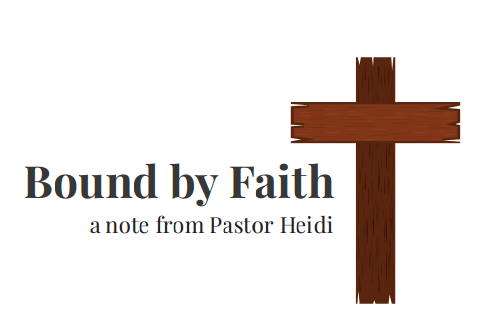 A Note From Pastor Heidi
On the 1st weekend of October, the ladies of the Bluebonnet Area Disciples of Christ churches gathered for the annual Women's Retreat at the DOC campground, commonly referred to as Camp Gonzo, for a weekend choked full of inspiration, discussion, reflection and fellowship with new and old friends. This year's theme was RISE UP and KNEEL based on Romans 12:2 (New Living Translation) which reads, "Don't copy the behavior and customs of this world, but let God transform you into a new person by changing the way you think. Then you will learn to know God's will for you, which is good and pleasing and perfect."
Over the course of the weekend, six commissioned ministers, myself included, helped break down the theme into the following segments:
Relationship – God wants a real and personal one with each of us
Invitation – Each of us is invited to be involved with God
Silence – God speaks to us
Experience – Recognize and know God
UP – stand with confidence and hope in God
KNEEL – Our choices reveal what we believe about God
Following each message, we divided into small groups to share insight, wisdom and personal struggles around the given topic. I was truly honored to be asked to speak and pray each day for the ladies' there and around the world that they may each never forget that their foundation is strong, Jesus gave all for them and that they are loved.
I look forward to sharing this experience with more women next year as well as other opportunities to gather as Disciple Women.