Bound by Faith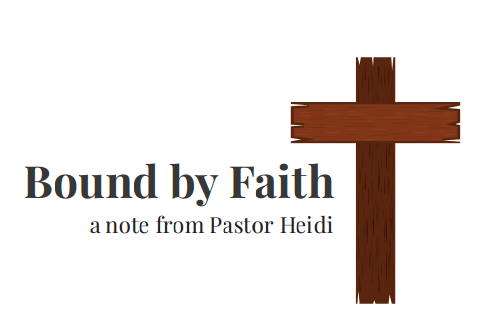 A Note From Pastor Heidi
Do you ever feel like your life is either feast or famine? You either have a zillion things pulling you in different directions or you find yourself somewhat idle? This past month has been a whirlwind! In a positive way though! At the end of June, I attended the Disciple Women's Assembly in San Antonio where my heart, soul and mind were filled, almost overflowing with great information. I look forward to sharing all that I learned with you through various ministries in the coming months. Good stuff for sure!
Then on July 1st, we loaded up 6 youth and 4 adults, 20+ pieces of luggage, airbeds and enough tools to paint, build or remodel an entire town (or so it felt). Off we went in our 15 passenger van and suburban for the 596 mile drive to Mescalero, New Mexico to serve for one week through Group Workcamp. What a fantastic week! We joined with 207 other youth and adult leaders from 8 different states, from 15 different churches to volunteer 6,210 hours to the Apache people through painting, building handicap ramps and decks and several other tasks. Our youth look forward to sharing all of the details in our upcoming Annual Youth Sunday in September!
And to close out the month, Brad and I took a quick trip to South Padre Island with some of the Bounds family for a few days of R&R.
And now, as we are in the home stretch of summer, headed towards the beginning of Fall, I'm so excited about a few new ministry opportunities that we'll be rolling out so stay tuned for more ways to explore, expand and experience a deeper relationship with others and with God.