Bound by Faith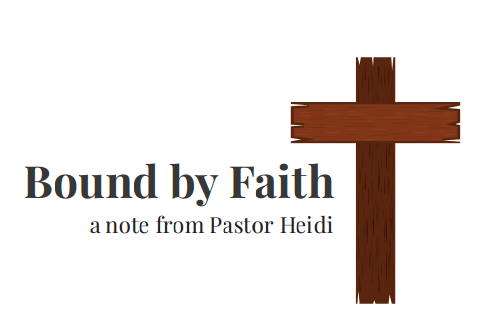 A Note From Pastor Heidi
"A goal without a plan is just a wish"
Heard that before?
Research shows that time and again that when you set a goal & write it down you are 90% more likely to take action towards achieving that goal. So, last year I challenged the staff to hold our first "Vision Sunday" by writing out our goals and to stand up before you all and share those goals. Did we meet them all? Maybe, maybe not but the important part is that we had a goal combined with a plan and action to reach them.
Throughout the year, I did a check in with myself to see where I was regarding my goals and to refocus where I needed to so that I could not only be successful but that our church community would benefit from the success. I'll admit, I had, what felt like to me, some pretty lofty goals. For example, a fully funded youth mission trip – check. Create, fund and install a butterfly garden in the back flower bed area – check. Complete the interview process to become a Commissioned Minister – check. I didn't accomplish any of my goals alone – it took a tribe, a village, a faith community to make it all happen.
Now, here we are and the calendar has flipped to another year – 2018, where has the time gone.
Some of my goals remain the same, only bigger and better.
• Continue to work with the Outreach Team to provide quarterly community service opportunities. If you have ideas, we'd love to hear them so please share any organizations or groups you may currently serve with and let's look at a possible partnership.
• Continue to build our Sunday morning bible study classes with impactful curriculum and increased attendance.
• Continue working to become a CERTIFIED Green Chalice Congregation by looking for opportunities to save energy, educate about the environment and to implement long term, sustainable changes to positively impact our environment and church
• Continue to collaborate with other DOC churches to offer additional programs – VBS, combined outreach opportunities, mission trips and youth event.
• Continue to grow our 1st Wednesday evening bible studies – ladies group and men's group
• Offer mini book studies and/or bible studies – 1st one will be during Lent so stay tuned for all of the details in the upcoming February newsletter. We will also be utilizing technology in a new way in conjunction with the book study!
• Although this final goal for this year is also a personal one as well, I look forward to sharing all I continue to learn as I continue my Commissioned Minsters classes.
I have also applied to Phillips Theological Seminary in Tulsa! Although I haven't received my acceptance just yet I look forward what this opportunity will not only open up to me but also to Central Christian Church. And for Brad's sake, no, we will not be moving to Oklahoma – I will be doing most of my course work online with an occasional campus visit for intensive study. It's such an amazing opportunity to attend seminary and do so at a DOC seminary. I am truly looking forward to sharing this opportunity and knowledge learned with CCC! So, again I ask for your patience and grace as I will be trying out new things and you all get to be my guinea pigs again!

I saw this posted on a wall a few weeks ago at my dentists' office. It read:
A DREAM written down with a date becomes a GOAL
A goal broken down into steps becomes a PLAN
A plan backed by ACTION makes the dream REALITY
Here's to making 2018 a year full of great things here at CCC!