Bound by Faith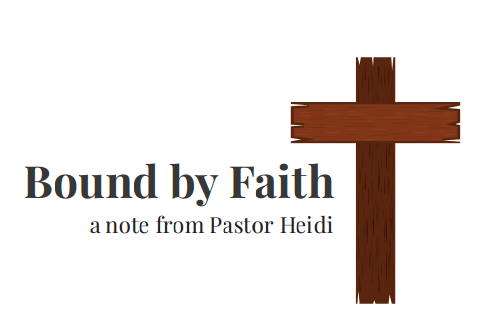 A Note From Pastor Heidi
A man was coming out of church one day and the preacher was standing at the door ready to shake hands.
The pastor grabbed the man's hand, pulled him aside, and said to him, "You need to join the Army of the Lord!"
The man replied "Preacher, I'm already in the Army of the Lord."
The preacher quickly asked "How come I don't see you except at Christmas and Easter?"
The man whispered back "I'm in the secret service."
This humorous illustration was the first of many as we journeyed through Lent.
Many gathered each Tuesday evening for a book study via Zoom, from the comforts of our own homes.
Together we dove into the book, I am a church member by Thom Rainer. We discussed church membership, how to be a functioning, active church member, how to be a unifying church member, how to not let church be about personal preferences and desires, we prayed for our church leaders, we discussed how to lead our families to be healthy church members and last but certainly not least, we discussed how to treasure church membership as a gift.
So many wonderful discussions were had that I wanted to share a few of the highlights and how each of us can join together to continue to make CCC a wonderful place to worship and serve.
Be a welcoming church. Offer opportunities to fellowship with one another especially food (I always say that we are a church that likes to eat!)
Have a servant's heart. Serve others both in our church and those outside through various community service events and find the joy in serving.
Build one another up through acceptance & respect of different points of view.
Be open to change.
Attitude of gratitude for the gift that God gave for us; his son, Jesus Christ.
Church membership is so vital for all – the church and the people. We were meant to do this together – to live, love, celebrate, grieve, share and learn from and with one another. Enjoy the gift that has been given to each of us.
I look forward to the next book study, until then don't be in the secret service!