Bound by Faith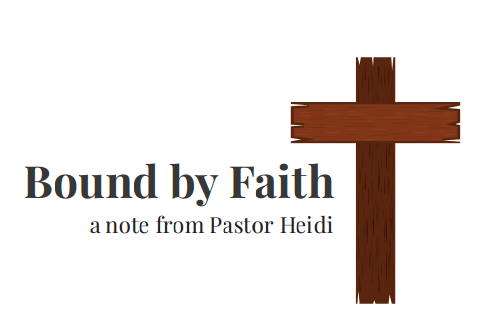 A Note From Pastor Heidi
A Call for Kindness
But the fruit of the Spirit is love, joy, peace, patience, kindness, goodness, faithfulness, gentleness and self-control. Galatians 5:22-23
A few months ago church member; Miriam Stewart shared a sweet kindness project with me that one of her friends had mentioned to her. I instantly loved it, just wasn't sure how we as a church were going to implement it. Every time I opened a book, magazine or a blog – there it was, KINDNESS! Kindness in so many forms. Has this every happened to you? God works through so many avenues, we only need to listen and then act. Easier said than done, right?
I recently read a blog post by Candace Cameron Burr (remember her from Full House?) and again it reminded me that kindness really does matter (Thanks Mom!) and that sometimes you just have to start and let the details work themselves out organically. For those that know me, this is completely out of my comfort zone. I'm a planner to the nth degree but I had to have faith that if I just started moving, God would put the people and processes in place. Someone once said, "God doesn't call the qualified, He qualifies the called." Okay Lord, here we go!
Then one evening following our monthly women's bible study, Nancy Bondi and I were standing outside in the church parking lot discussing evangelism and our faith journeys when I thought about that kindness project again. It truly was an 'ahhhh moment' of it all coming together. Nancy is thrilled to be leading our evangelism team and kicking off her first project; Kindness Matters. It's so simple, yet such a wonderful opportunity to be kind. Simply get a card or more from Nancy (she has a BIG stack of them) and then do something kind for someone and share the card so that they can pass it on! There is only one requirement to this project – be willing! Be willing to express kindness, for we have no idea the chain of goodness we may begin.
We are each called to imitate Christ and when we are kind towards other with no expectation of anything in return, each of us is being a reflection of Him. Go forth; let the fruits of the Spirit shine outward from you!