Bound by Faith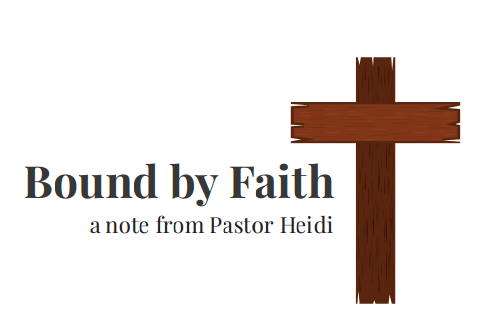 A Note From Pastor Heidi
The last weekend in June, I along with 150+ women from across Texas, New Mexico and Oklahoma gathered in Fort Worth for the Annual Christian Church of the Southwest (CCSW) Women's Assembly to worship, renew old friendships, build new ones, refuel and energize our hearts, our minds and our bodies to serve Christ, our families and our communities. The theme was "What the World Needs….." and we took a deep dive into Luke 10:27 where Jesus instructed his disciples, "you shall love the Lord your God with all your heart, and with all your soul, and with all of your strength, and with all your mind; and love your neighbor as yourself."
It began on Friday evening with worship where Reverend Virzola Law, who was raised Disciples of Christ and felt the call to ministry at the age of 15 while attending church camp in the Piney Woods of Texas and currently serves as Senior Pastor at Lindenwood Christian Church in Memphis, Tennessee. The evening message was titled, "Scars, Scrapes and The Sacred" and she shared with us that as an African American female in ministry in the late 1990's/early 2000's, no one knew what to do with her. Ever felt that way? She didn't "fit" what was expected but she knew she had been called and that if she continued to follow God's calling on her life that He would make a place for her. Ever feel that way? The music was uplifting, refreshing and sung loud and proud so that our God could hear us gathered together to praise Him.
Saturday began with music and recognitions and Reverend Virzola Law preaching the Good News again. However, this time, she challenged us that "enough was enough", that we as women have to speak up – speak up for ourselves, speak up for our families, speak up for our friends, our coworkers, our church! Our silence doesn't serve the world well – to tell the truth is to heal! Can I get an ouch? Or an Amen? She began by reading Mark 7:24-30 which tells the story of the woman who sought out Jesus and begged him to cast the demon out of her daughter. Rev. Law challenged us to not just read scripture through at face value but to read it multiple times and question it differently each time through.
I challenge you to do the same by beginning with this same text from Mark – what word leaped out at you as you read it the first time? Second time, what disturbed you? Challenged you? And for the third time through, what's the hope you see? What's the Good News?
I could have packed up my suitcase and walked away after those two worships and keynote speeches and have easily been refueled but much like any TV infomercial would say, "wait there's more"! The rest of Saturday was filled with wonderful workshops about centering prayer, journaling, crafts, how important laughter is in our lives and many, many others.