Bound by Faith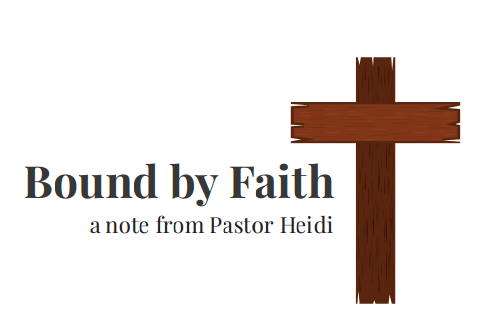 A Note From Pastor Heidi
Summer is over! Or at least the lazy days of summer are even though the Texas weather says otherwise. Back to routines – earlier bedtimes, homework and extracurricular activities. For me, too. I will begin the pursuit of my Master in Divinity degree at Phillips Theological Seminary this Fall. I just returned from a 3-day new student orientation that was packed full of technology training, library resource training, meeting the staff, faculty and new students, lots of panel discussions about how to be successful in school, diversity and what former wished they had known their first semester, lots of great food (Disciples of Christ love to eat) and wonderful time spent getting to know those that will be funning this marathon with me.
Several times over the course of orientation, there were references to I Love Lucy and how this or that moment reminded someone of a particular episode. I loved watching I Love Lucy as a kid and often watch the reruns but as an adult I now see a deeper message verses just watching all of the shenanigans and trouble that Lucy would find herself in quite often.
Here's just a few lessons learned from Lucy:
Don't let obstacles keep you down
t's never too late to better yourself
Getting out of your comfort zone is part of life
Have confidence and you can do anything
Be fearless
Honesty is the best policy
Make your crazy dreams come true
Now, all of that is often easier to say and type then actually do but to try and fail is so much better than to never try at all. So, go run your own marathon and live like Lucy!