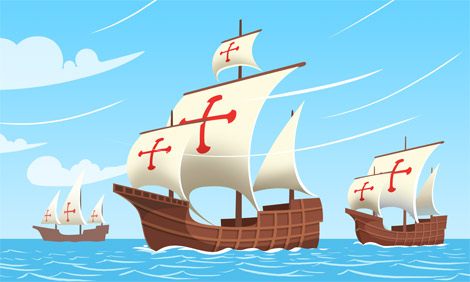 Want to learn more about Columbus Day? Check out this video from the History Channel.
ORIGINS OF COLUMBUS DAY
A U.S. national holiday since 1937, Columbus Day commemorates the arrival of Christopher Columbus in the New World on October 12, 1492.
COLUMBUS DAY IN THE UNITED STATES
In 1937, President Franklin D. Roosevelt proclaimed Columbus Day a national holiday, largely as a result of intense lobbying by the Knights of Columbus, an influential Catholic fraternal benefits organization. Originally observed every October 12, it was fixed to the second Monday in October in 1971.
COLUMBUS DAY ALTERNATIVES
In many Latin American nations, the anniversary of Columbus' landing has traditionally been observed as the Dìa de la Raza ("Day of the Race"), a celebration of Hispanic culture's diverse roots. In 2002, Venezuela renamed the holiday Dìa de la Resistencia Indìgena ("Day of Indigenous Resistance") to recognize native peoples and their experience. Several U.S. cities and states have replaced Columbus Day with alternative days of remembrance; examples include Berkeley's Indigenous Peoples Day, South Dakota's Native American Day and Hawaii's Discoverer's Day, which commemorates the arrival of Polynesian settlers.
COLUMBUS DAY TRADITIONS
In many parts of the United States, Columbus Day has evolved into a celebration of Italian-American heritage. Local groups host parades and street fairs featuring colorful costumes, music and Italian food. In cities and towns that use the day to honor indigenous peoples, activities include pow-wows, traditional dance and lessons about Native American culture.
Source: http://www.history.com/topics/exploration/columbus-day