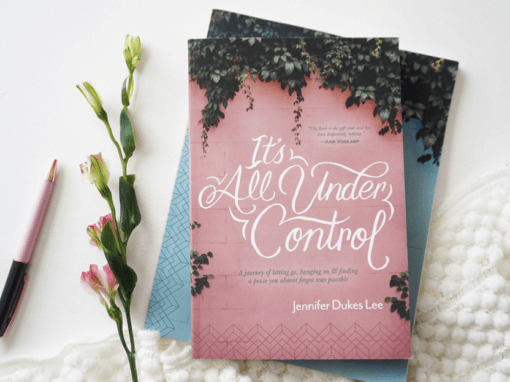 We will dive into Jennifer Lee Duke's book, It's All Under Control. Nancy Bondi will lead us through a journey of letting go, hanging on and finding a peace you almost forgot was possible.
Let's be honest: As Christian women, we know that the answers to all our fears lie in resting calmly in the arms of our sovereign Father. And yet, in reality, when it comes to surrendering our deepest worries and longings—the future of our children, the state of our marriage, the wounds of a relationship—we often go to Google before God, trying to manage outcomes ourselves and take matters into our own hands. We love our people fiercely—so it can be easy to fall into the false idea that if we can handle it all, we can shield them (and ourselves) from pain. Is there a different way to live? To faithfully wait, let go, and trust an unseen God?
In IT'S ALL UNDER CONTROL, join Jennifer Dukes Lee on a journey to surrendered living—not a journey to "doing less," but being more of who God has truly created us to be: his partner in this life he's set before us.