The Green Chalice
What Does This Mean?
It means that CCC is committed to reducing, reusing and recycling as well as recognizing how we impact both the local and global communities that we live in. Special thanks to those who have joined the Green Team and committed to working towards becoming a Certified Green Chalice Congregation!
Join Our Team
We would love to have more people join our team and commitment to reducing, reducing and recycling. Please visit with one of our team members to join!
Ja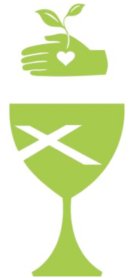 n McLendon
Eddie Torres
John Perryman
Mark McColgan
Barbara Sabo
Maxine Jenks
Brad Bounds
Heidi Bounds