Thanksgiving Luncheon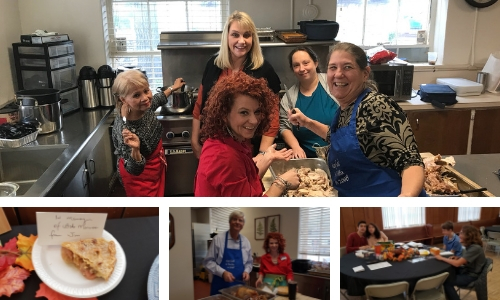 Thanks to everyone who helped out, brought food and who joined us for our Thanksgiving Dinner! It was wonderful to have so many people stay and enjoy fellowship together.
For all their work in the kitchen a huge amount of gratitude goes to
Heidi and Brad Bounds, Angie Bollinger
Naomi Bollinger
Barbara Sabo
Lori and Ben Broughton
Henry Barrera
Special thanks to our turkey carvers: Pat Johnson and Eddie Torres with Angie pitching in there too! Marla and Jose Rivera didn't leave until they had washed every single dish that Aurora Flores-Oritz and Nico Ortiz gave them! Our youth pitched in and helped as always – Ashley, Jackson, Lucas and Mitchell!
If you'd like to get involved with the Social and Fellowship Team or want reminder emails from Ginger Meeks prior to each lunch, please send an email to vmeeks1022@yahoo.com