Bound by Faith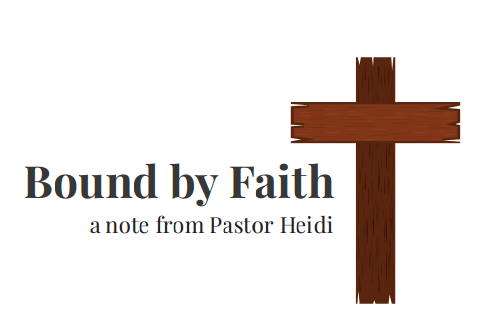 A Note From Pastor Heidi
As I sit here wrestling with this month's newsletter article, I keep going back to the scriptures. In particular Ecclesiastes 3:1-8 which is perhaps best known for the list of things which there is a proper time and says:
For everything there is a season, and a time for every matter under heaven:
a time to be born, and a time to die;
a time to plant, and a time to pluck up what is planted;
a time to kill, and a time to heal;
a time to break down, and a time to build up;
a time to weep, and a time to laugh;
a time to mourn, and a time to dance;
a time to throw away stones, and a time to gather stones together;
a time to embrace, and a time to refrain for embracing;
a time to seek, and a time to lose;
a time to keep, and a time to throw away;
a time to tear, and a time to sew;
a time to keep silence, and a time to speak;
a time to love, and a time to hate;
a time for war, and a time for peace.
There is so much to be unpacked in this scripture which lends it to be applied in so many situations and circumstances. As I shared at the recent gathering of the Capital Cluster Women's Event, I've used this very scripture for several funeral and memorial service because it resonates with all people, on some level or another. I also shared how God has made everything beautiful in it's own time; moreover God has put a sense of past and future into our not knowing all that will happen in our lives as God's way of keeping us all in awe and wonder.
With all that said, our Senior Minister has left. Now what?
Pastoral change in a church can be challenging. I've been asked many times over the past few weeks, "now what? What's next?" I recognize that people are confused and anxious about Reverend Gates' departure and rightfully so. Therefore, I believe it to be incredibly important that we be as transparent as possible with the process that lies ahead for the church, it's leaders, staff and members.
So, here's the process that happens next to help us search for our Interim Minister who will help us as we transition and begin our Search and Call for our next Senior Minister:
Our congregations Administrative Council has consulted with the Area Minister regarding our search for a new Minister. We have already done this.
Appoint a Search Committee for the Interim Minister. We have already done this as well.
Search Committee has met with our Area Minister for an orientation. The committee has completed this step.
Complete a congregational profile, position description and information packet for interim candidates. This has already been done.
Area Minister will send profiles of potential candidates to the Search Committee. The group has received profiles of potential interim ministers.
The Search Committee will create a short list of possible candidates.
The Search Committee will interview candidates on the short list.
One candidate will be recommended to the Administrative Council.
Our congregation will vote on the recommended candidate.
We will join in worship to install our Interim Minister.
** For more information on the general search and call process, you may go to www.discipleshomemission.org/clergy/search-call/
As the Executive Pastor, I have no involvement or control in this process, nor should I other than to provide my input for the church profile and pastorally support this search committee, the leaders of the church, the staff and each of you. I hope that this insight into the process of our search for an Interim Minister and then ultimately a search and call for a new Senior Minister will help lift some of the confusion and anxiety. You may also follow along the process by checking out the progress chart which is located outside the community room directly across from the prayer room that will be updated by the Search Committee as they complete the various steps.
Despite all of the mixed emotions, I am excited about Central Christian Church and all the possibilities that lie ahead for this congregation and it's ministry team. Together we will gather to do what is right, just and timely.