Bound by Faith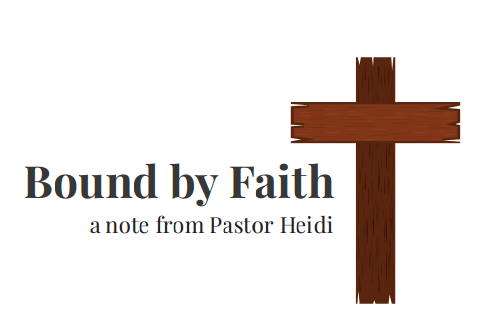 A Note From Pastor Heidi
Love. February is the month of love. Signs and symbols of love are in stores, commercials and many of the places we go every day. Love surrounds us. Love has so many different meanings. For example, I love ice cream. I love to travel. I love my family and friends. I love my…… The list goes on and on. As a follower of Jesus, what does the Bible say about love? Well, first love is not love is not love. There are different types of love and depending on the Google search you will find three, four or five types of love according to the Bible. For this article, I'd like to focus on these four types of love – eros, storge, philia and agape. What are each of these types of love and how do we as Christians follow the command to "love one another"?
Eros love is the Greek term for romantic love originating from the mythological Greek god of love. Its Roman counterpart was Cupid. Think significant other type of love for eros.
Storge love is the Greek word that describes family love, such as the love between parents and their children or the love between siblings.
Philia love is the Greek term to describe the emotional and powerful bond found in deep friendships. It's the love that we have for other people and how we express our care and compassion for others. Jesus said philia love would be an identifier of his followers when he said, "By this everyone will know that you are my disciples if you love one another."
Agape love is the term used in the Bible to define God's unmeasurable and incomparable love for humans. It is the divine love that comes from God. It is a perfect, unconditional and pure type of love.
So, how do each of us love like Jesus? This brings me to a familiar scripture often read at weddings but I also heard it recently shared at a memorial service I attended which made me pause and look at 1 Corinthians 13 from a different angle. In this particular passage, Paul describes fifteen characteristics of love. Although Paul was addressing the church of Corinth, I think it very well applies to us, as Christian in today's church and world. It reads, "Love is patient, love is kind. It does not envy, it does not boast it is not proud. It is not rude, it is not self-seeking, it is not easily angered, it keeps no record of wrongs. Love does not delight in evil but rejoices with the truth. It always protects, always trusts, always hopes, always perseveres. Love never fails."
May we each find love, give love, receive love and foster love, today and in all the days ahead.