Bound by Faith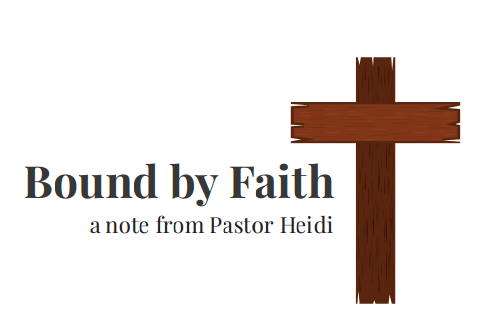 A Note From Pastor Heidi
As we put 2018 behind us and look forward to 2019, let us not forget where we have been and all of the fantastic things we have done as a community of faith. I'm sure that I will forget some moments so please forgive me. Nonetheless, here goes:
Souper Bowl of Caring – collected 532 food items to be given to Bethany Food Pantry
6 CCC members participated in the annual CROP Walk for Hunger
Several youth group fundraisers to support summer mission trip – chocolate covered strawberries, plant sale, garage sale and Paint the Pastor!
Sent Easter cards to our homebound members
22+ people participated in an online 6-week Lenten book study; I Am A Church Member
Monthly Church luncheons to share food, fellowship and fun
3 church workdays to clean up the inside and outside of the church
Pet Blessing Service in the courtyard
CCC Talent Showcase with dancing, singing, storytelling, show dogs, origami making and comedy skits
Kicked off monthly evening Women and Men's Bible Studies
6 ladies attend the CCSW Disciple Women's Ministry Assembly in Fort Worth
Hosted and Iftar Dinner in partnership with the Dialogue Institute of Austin
CCC Out to Lunch – Dart Bowl and Schlotzsky's
7 participated in the youth mission trip to serve various organizations in Leander/Cedar Park
CCC Hosted three Acoustic Sanctuary performances
Provided children at Posada Esperanza with a new pair of shoes and lunch box for school
Collected school supplies that were donated to the Teacher Closet at Smith Elementary
Online Book Study; Connected: My Life in the Church
Over 900 medicine bottles were sent to medical clinics in impoverished countries
34 pairs of eyeglasses were donated to the Lion's Club
Countless carloads of clothing donations were taken to Austin State Hospital
Petite Pantry was installed and continues to be an outgoing opportunity to help those in need
Hosted 28th Annual Tree of Angels Service
Christmas Workshop produced 60 blessing bags to be distributed to those in need and 30+ Christmas cards were made to be sent to our military troops in Bahram.
100 pumpkin pies and 100 cans of corn were delivered to Bethany Food Pantry for their annual Thanksgiving Dinner distribution
Church Constitution and Bylaws were revised and approved
Weekly online prayer gathering was established and well attended
Disciples and Drinks; a 787 Collective initiative was established
Church moved from having a physical admin onsite to hiring a virtual admin to create weekly emails, bulletins and monthly newsletters
Hosted Christian Church of the Southwest Regional Assembly for worship, workshops and fellowship with over 200 people from across the region in attendance
Butterfly garden was created and is now an official Monarch Waystation
I eagerly look forward to 2019 and all that we will do as a congregation. We truly are better together!