Bound by Faith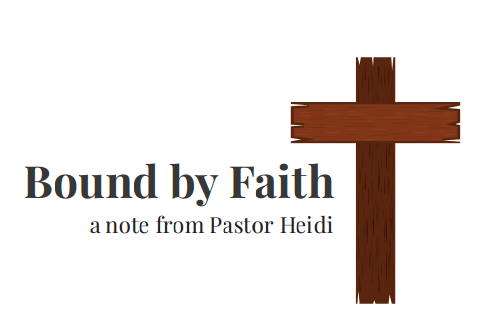 A Note From Pastor Heidi
Happy New Year (and new decade)! 2020 is here! A new year gives time for pause, a time to reflect and a time to review where we have been and where we are each going.
What new traditions or habits do you plan to add or subtract from your life? So many times, I hear people talk about what they are "giving up or not going to do in the new year but I challenge you to look at what good things you might work to add to your lives! I'm not talking about anything momentous, although that would be fantastic as well, let's think simple, think easy to weave into your already very full life. What might that be? What might that do for your new year? Your next decade?
Maybe making a "new years resolution" isn't for you at all and that's okay too. I know lots of people who say, "been there, done that" and in less than a month they'll have already stopped doing whatever they said they were going to do, change, be or whatever the case may be.
So, what might the bible say about all this New Year resolution business. Well, just Google it and you'll find pages upon pages of scriptures that lead to so many different books of the bible and how someone somewhere has deciphered it be relatable to our possible resolutions. Although I don't think that Isaiah was particularly talking about new year's resolutions, it did make me think back to a fairly recent women's book study on Isaiah and how Isaiah directed people to stop looking at the past and prior things and to stop looking at years gone by but instead to look at all the new things – really look for it and to recognize the new and good things around them.
Maybe we don't make a resolution. But what we can do is to look for the good. Look for the good in ourselves even on the most challenging days. Look for the good in others in both the good and not so good times. Look for the good in the world around you. Be the good to ourselves, to others and to the world. May you each find peace, love and joy in the new year! Look and you will find it!
Blessings to each of you in 2020!